31marTutto il giorno01aprFrom trauma and instability to osteoarthritis of the wrist(Tutto il giorno) TIPOLOGIA:EVENTI PATROCINATI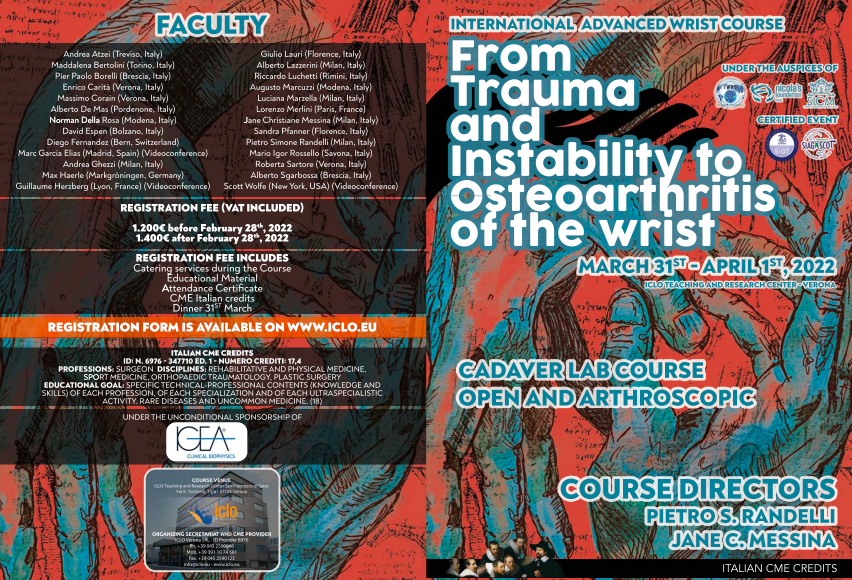 DETTAGLI DELL'EVENTO

SIAGASCOT è lieta di conferire il patrocinio all'evento: From trauma and instability to osteoarthritis of the wrist che si terrà a Verona il 31/3/2022.

Questo Corso teorico-pratico su Cadavere ha lo scopo di analizzare i meccanismi traumatici che possano causare lesioni legamentose o ossee a livello del carpo. Verranno quindi descritti il meccanismo patogenetico dei traumi con lesioni legamentose del carpo. In particolar modo si analizzerà l'instabilità del carpo, la patomeccanica , la stadiazione delle lesioni e verrano descritte le diverse tecniche chirurgiche ricostruttive nei vari stadi dell'instabilità. Quindi verrano confrontate le varie tecniche durante la discussione e vi sarà la presentazione di casi clinici

Quindi vi sarà una sessione sulla traumatologia ossea, le fratture del radio distale, il trattamento chirurgico in urgenza e gli esiti. Il trattamento del trauma complesso in urgenza e le diverse tecniche di osteosintesi

Inoltre verrà valutata l'evoluzione dei traumi ossei e legamentosi nel tempo e studiata l'evoluzione artrosica a distanza. Quindi affrontato l'argomento dell'artrosi dalla diagnosi, alla stadiazione ai più moderni trattamenti ricostruttivi e di salvataggio, fino all'artrodesi ed alla protesica totale e parziale. Il Corso è dotato di una faculty di altissimo livello con importati relatori conosciuti in ambito nazionale ed internazionale

Esso consta di sessioni teoriche e di sessioni pratiche su cadavere che vengono eseguite subito dopo la sessione teorica in modo che i partecipanti possano immediatamente mettere in pratica le tecniche apprese.

Il Corso che si svolgerà presso il Cadaver Lab dell'ICLO a Verona, dove verranno mostrate le diverse tecniche chirurgiche a cielo aperto ed artroscopiche ed i partecipanti avranno modo di imparare rapidamente ad eseguirle correttamente.
QUANDO

Marzo 31 (Giovedì) - Aprile 1 (Venerdì)
Health Guidelines for this Event
Temperature Checked At Entrance
Physical Distance Maintained